Contact Rosalind to book your FREE 15 minute consultation using the form below. You will then get an opportunity to talk with Rosalind prior to booking in your first session.
You session can be booked for in-person at Moruya South Head, online or phone Australia wide.
Evening and weekend appointments are available by request only.
Standard Consultation Pricing
Individual sessions – $120 for 60 minutes
Couples sessions – $180 for 90 minutes
Family/Parenting sessions – $120 for 60 minutes
Payment is requested by cash or bank transfer, and is due at the start of your visit.
To contact Rosalind with any questions or further information please use the contact information below or complete the enquiry form above.
When you book a time, that hour will be set aside just for you. Appointments cancelled with less than 24 hours notice will incur a cancellation fee of 50%.
Appointments missed without notice will incur 100% cancellation fee.
Medicare and Health Insurance
Medicare and Health Insurance rebates are not available. However, I keep my fees low and affordable. You may visit as often as you like, with complete privacy, and your visits will not be recorded in the medical system.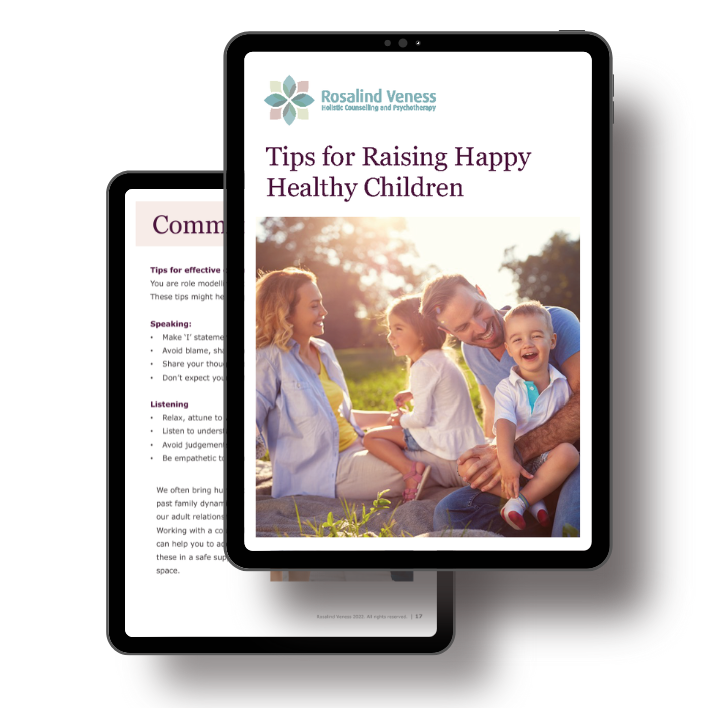 Download our FREE Tips for Raising Healthy Happy Children E-Book.
This free resource offers suggestions for creating the family life you have always dreamed of.
We cover topics including:
 · Establishing a bedtime routine
 · Suggestions for picky eaters,
 · The importance of free play 
 · Why screen time can delay your child's early development