Bringing to therapy the depth of understanding that comes from lived experience
My passion is helping people to realise their potential to live meaningful lives. I believe we are all born innately gifted, and would like to help you to develop the uniqueness that is you, and the gifts that you bring to the world.
I offer a broad range of counselling services, and have a particular interest in supporting relationships, and helping parents through everyday parenting challenges.
I find that when we are able to address the stresses and tensions in our own lives, the benefits flow on to those around us. Learning and behaviour in children naturally improves when they feel safe.
As a trauma-informed holistic therapist, I work with the whole person, recognising the interconnection between body, soul and spirit, or mental, emotional and physical aspects.
Rather than trying to reduce or eliminate symptoms, I see disturbances as bringing us a message. Working with clients to help them unfold the meaning behind their disturbance brings personal and spiritual growth. 
I see healing as a lifelong process of continual evolution and learning. There are no quick fixes, but every step we take leads  to greater awareness and understanding, as our unique path unfolds. 
I am a PACFA Certified Practising Counsellor, Registered Circle of Security Parenting Facilitator and Victims Services Counsellor.
When I'm not working you might find me spending time with my family, walking alongside the Moruya river, or enjoying a coffee at a local cafe.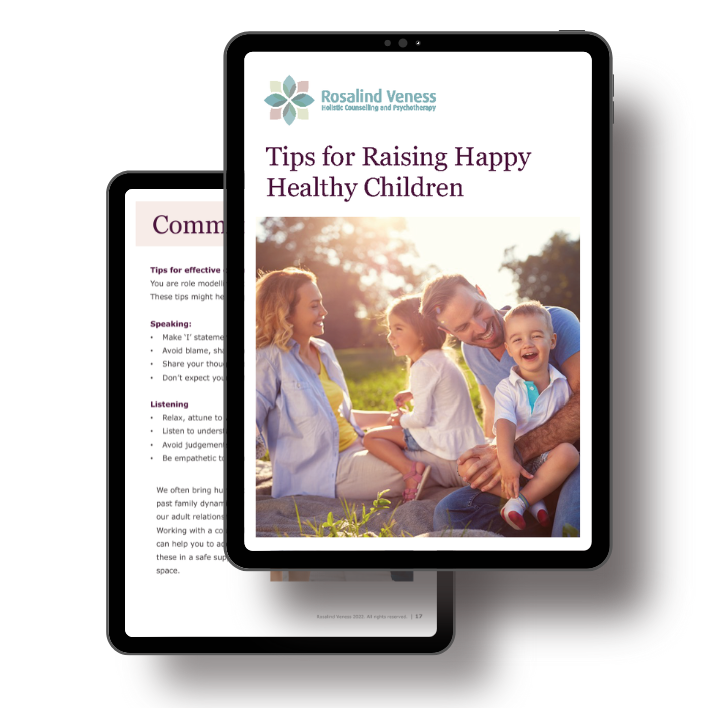 Download our FREE Tips for Raising Healthy Happy Children E-Book.
This free resource offers suggestions for creating the family life you have always dreamed of.
We cover topics including:
 · Establishing a bedtime routine
 · Suggestions for picky eaters,
 · The importance of free play 
 · Why screen time can delay your child's early development
Post-graduate studies in Holistic Counselling and Psychotherapy with the Metavision Institute (2017), training in Process-oriented Psychology
Level 1 Training in Gottman Method Couples Therapy (2021)
Accredited Provider with the Foundation for Infant Loss (2018) supporting families experiencing miscarriage and infant loss
Registered Circle of Security Parenting Facilitator (2018) offering early intervention for parents and children
Certificate in Holistic Counselling Skills with the Metavision Institute (2015) 
Certificate IV in Disability (2013)
Master of Education, CSU (2012) – post-graduate research into reading difficulties
Certificate in Extra Lesson (2009) – post-graduate study in understanding and addressing learning difficulties
Registered Integrated Listening Systems Practitioner (20007) offering listening assessments and iLs listening programs
Reiki Levels 1 and 2 (2003)
Member of the Psychotherapy and Counselling Federation of Australia (PACFA).
Conference Presentation – International Conference on Childhood Trauma, Melbourne (2018) – paper based on my research exploring links between stress and trauma in infancy and early childhood, developmental delay, learning difficulties and challenging behaviours.
"When I completed the course today I realised that my relationship with my son would forever be closer than it was before I started. Kids needs are truly universal, they all need to feel safe."
Circle of Security Parent